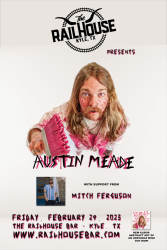 The Railhouse Bar presents...
Austin Meade
w/ Special Guest Mitch Ferguson
Time: 8:00pm Day: Friday Doors: 7:30pm Ages: 18+ (Under 18 allowed with parent or guardian) Price: $15 ADV / $20 DO

AUSTIN MEADE
On Black Sheep, Austin Meade delivers songs and stories that, like the young singer/guitarist himself, are contradictory yet cohesive. His influences—musical and otherwise—are as varied and rich as the small-town Texas soil that nurtured his talent, yielding 12 stellar songs ranging from the insinuating multi-layered musicality and storytelling of "Déjà Vu" to the dark alt-pop of "Happier Alone," and on further to the new-age, Sabbath-inspired "Dopamine Drop." 
Thanks to his metal- and classic-rock loving dad, Meade got to see bands like Judas Priest and worshipped Whitesnake. In junior high he related to the intense emo-rock of Paramore and Fall Out Boy, and the power of songwriters like John Mayer. Yet, thanks to plainspoken but deep heartland songwriters like Tom Petty, and cutting his teeth touring in theTexas and Oklahoma Red Dirt scene, Meade's music overflows with wide-open soulfulness. He was a drummer for years, even teaching to pay the bills, but Meade found his true voice when he began playing guitar as a teen in his pastor-father's church. Those experiences lend both a gravitas and rebelliousness to Meade's songs and self. 
The songs on Black Sheep, produced by Taylor Kimball (Koe Wetzel, Read Southall, Kody West) are instantly memorable, but far from simplistic. Meade challenges the status quo, both musically and lyrically. "I like to question those standard math formulas," he explains. "What if we just add two more lines and make somebody feel uncomfortable here,' because the song itself is about being uncomfortable?" And within a song—and video—like "Déjà Vu," Meade explores the cyclical, Groundhog Day-like nature of a month—or lifetime—of Sundays. 
Throughout school, "I was one of the weird kids who actually liked writing class. I would describe ridiculous stuff, and in elementary school I was a Harry Potter nerd. I'd get lost in those books," he remembers. Soon, though, records became his new sanctuary. "I started to hear songwriters that were telling stories in three to five minutes; concepts and ideas that were not only spanning just that one song. One of my favorite lyricists is Alex Turner of Arctic Monkeys; the way he describes things, you can almost touch it or smell it."
Likewise, on Black Sheep, Meade's vivid descriptions are palpable and immersive. They paint a picture the listener can step into, like taking a journey through "two-lane highways and speed-trap towns" that Meade traverses in "Déjà Vu." "That's my goal," he explains. "To make people feel like they're in the room with the stories in my songs; they're within that experience."
Meade's carefully crafted songs manage to be profound and provocative, sonically suited for both dive bars and arenas. From the seismic guitars and painfully honest lyrics of a song like "Dopamine Drop" to the mournful, lilting nostalgia and hard reality of  "Settle Down" and on through the fantasy of "handwritten letters, candle-wax seal, Midwest American feel" in "Cave In," it is clear Meade's ambitions and dreams are weighty. 
The songs are ably aided on Black Sheep by his band, longtime guitarist and creative partner David Willie and drummer Aaron Hernandez; newest member bassist Jordan Pena isn't on Black Sheep. In recording the LP with producer Kimball, Austin committed to exploring and experimenting with new ideas. "I wanted to put more pedals and crazier sounds on Black Sheep... I want to be constantly changing and morphing as an artist," Meade says, "making sure that I'm opening myself up to new opportunities and new tones." 
The closing song that gives the album its title is self-referential and accepting. "'Black Sheep' is me realizing that, 'fuck it, I don't have to change what I'm doing, I don't need to feel like I have to fit in.' Just because I'm playing in Texas and Oklahoma doesn't mean I have to play more country, or only an acoustic guitar. I own who and what I am."
Further expounding on the record Meade notes, "I like to break people's hearts at the last minute, sometimes unsuspectingly: 'Comfort is a hard drug.'" While not immune to the appeal of a white-picket-fence future, he wants more… for himself, and others. "I want people to look at lyrics like that and figure out if it challenges them to move or challenges them to make themselves a better person. To do what they want to do with their life and achieve their dreams, rather than just letting everybody else tell them what life is 'supposed to be.'"
To that end, he's been following his muse and paying dues for most of his young years. Playing every dimly lit restaurant stage that would help pay bills in college. (At Texas A&M he studied for agricultural economics, which he terms "a business degree, just a little bit more Texan.") Meade's also spent the last six years honing his songwriting skills on two indie EPs and two albums prior to making Black Sheep. And his talent has not gone unnoticed, the Dallas Observerwriting that Meade's "rich guitar-driven melodies and tone call back to times when Tom Petty and Jimmy Page ruled the stage. … His songwriting prowess is beyond his 26 years, with lyrics and characters acting as conduits into the mind of a young man trying to sort out his feelings as the state of the world smacks him in the face."
Black Sheep was written and recorded in late 2019, and meant to be released independently--until Snakefarm got a hold of it and immediately signed Meade. The frontman is well aware that the hard work that's led to this point is just thebeginning. After all, he lays it out in "Black Sheep": "Comfort is a hard drug … do you ever want to leave this town?" For Meade, placid hometown comfort is in the rear-view—or will be once touring starts up again, as he boldly sings his statement of intent: "I am the black sheep / running til I'm six feet."  
DISCOGRAPHY:
Black Sheep, LP, 2021
Cave In – Dopamine Drop, Singles, 2020
Happier Alone, Single, 2020
Waves, LP 2019
Heartbreak Coming, EP, 2016
Chief of the Sinners, LP, 2014
Long Ways To Go, EP, 2014
http://www.austinmeade.com
MITCH FERGUSON
Mitchell Ferguson is an artist from Dallas, TX. The Singer/Songwriter & Multi-Instrumentalist pulls inspiration from multiple genres, creating a sound that is truly his own. Blending Alternative Rock, Pop, Hip-Hop, and more with a Southern tinge, Mitchell's songs and live show are one of a kind. Having spent the last four years touring as a frequent support act in the Texas Country/Rock circuit while simultaneously grinding out the Dallas/Fort Worth bar scene, clocking in 250+ shows a year, 2023 finds Ferguson poised to make his mark on the industry. His full length label debut 'WHOLELOTTASAUCE' is slotted for release this year, made in collaboration with Taylor Kimball (Koe Wetzel, Austin Meade, Giovannie & The Hired Guns) under Kimball's label Sour Sonics. Find more at www.mitchellferguson.info.