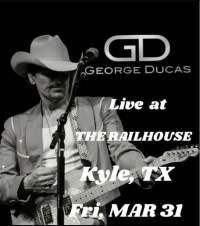 THE RAILHOUSE BAR & 1836 ENTERTAINMENT PRESENTS
*** CANCELED ***
George Ducas w/ Special Guest Troy Stone
Time: 9:00pm Day: Friday Doors: 8:00pm Ages: 21+ Ages Price: $15-$20
This Event Has Ended
Four albums (and countless songs written for other artists) into one of country music's more esteemed careers, country recording artist/songwriter George Ducas continues to evolve. His latest evolution comes in the form of YELLOW ROSE MOTEL, a project that stands as his most comprehensive and cinematic to date. YELLOW ROSE MOTEL comes packed with everything from smash singles that remain true to Ducas' modern day-roots country hybrid style to completely-off-the-rails story-telling songs that leave a mark on the listener long after they're heard. The album both firmly reestablishes Ducas' country roots and secures his status as a highly respected artist in the country music industry.
Written and recorded in several Nashville recording sessions throughout 2017 and 2018, the album draws its name from the title track "Yellow Rose Motel", a song Ducas says is "inspired by and is an ode to Willie Nelson's Red Headed Stranger", an album largely credited with the rise of country music's outlaw movement. "Yellow Rose Motel" itself is an epic tale, exploring the both passion and the darker side of desire, wrapped up in a sordid love-lust tragedy. "Yellow Rose Motel" works as a commentary on love, lust, heartbreak, and what could be called hate – and it is also particularly appropriate for Ducas, as a prolific songwriter who aptly notes that "some of the best songs come from times when we identify with those feelings that put us either on top of the world or, in this case, emotionally destroyed. When music is at its best, whether we are creating it or taking it in, it gives us the chance to explore our own emotions and experiences, think them through, and hopefully overcome life's hardships."
The range of emotions we all experience that are reflected in YELLOW ROSE MOTEL demonstrates a new artistic depth and an extra level of intensity for Ducas. Ducas re-enlisted co-producer Matt McClure, who worked on Ducas' previous 4340 album; and, once again, as is always the case, the consummate artist/songwriter had a hand in writing every song on the album. Track to track, his newest offering reinforces that Ducas's hit songwriting instincts are stronger than ever. The lead focus track, "Eastwood", is a shimmering, uniquely "American" love song, drawing upon character images played by the iconic actor – leaving every man wanting to be him, and every woman wanting to be with him.
With the album in the making, Ducas endured the passing of his mother in California. "Mom was – and still is – the driving creative force in my life. She was the true poet in the family; whatever creative gene I possess, I'm positive it comes from her. Some of the best, last memories I have with her are driving her around out in California, playing her some of the songs I was in the process of recording for YELLOW ROSE MOTEL. Those are memories I'll keep for the rest of my life, and ones I'll have every time I play these songs onstage."
Born in Texas City, Texas between Houston and Galveston, George Ducas' family wasn't a particularly musical one, leaving Ducas to take the reins of his own music education. He did benefit from hearing a steady diet of Willie Nelson and Texas singer-songwriters Jerry Jeff Walker and Guy Clark around the house, and taught himself how to play guitar around the age of 12. He later expanded his learning to both blues and rock.
With parents who divorced early in his childhood, Ducas spent his childhood years in both Texas with his father and California with his mother. After graduating high school in Houston, he enrolled at Vanderbilt University, even as music was calling his name. After graduating and moving to Atlanta for a brief stint, Ducas made the life-altering drive from Atlanta to Nashville, forging his own path in an industry built predominantly on formula. Early on, he dedicated himself to his songwriting and performed regularly in and around Nashville, cultivating a following both in and outside of the music industry.  
YELLOW ROSE MOTEL mixes elements of modern country, Texas country, Bakersfield country, and roots music, retaining Ducas' unmistakable identity while continuing to show his evolution as an artist. Of his previous albums, Ducas' self-titled debut album on Capitol Records yielded four Billboard charting songs, including "Teardrops" and the Top 10 smash "Lipstick Promises". His second album yielded two more Billboard charting songs and included a Grammy nomination. During this time, he also began notching scores of hits as a songwriter for artists such as Garth Brooks, Sara Evans, Eli Young Band, Randy Rogers Band, Gary Allan, Dixie Chicks, Trisha Yearwood and more. For the most part, Ducas shrugs this off, "What anyone creates is rarely totally "original" – although people tell me that I am, and that's definitely what I strive for. But the success of a song also hinges on a lot of other hard-working believers behind the scenes, doing an exceptional job. In the end, I just want to bring my music to as many people as I can – and sure we all want to be accepted, but I'm also always aiming to trailblaze a little bit of my own territory." And, in YELLOW ROSE MOTEL, Ducas does just that.
All together to date, Ducas has been a part of studio albums that have sold more than 20 million copies and even garnered a Grammy nomination.  All the while, Ducas maintains that the best part of it all is to tour and perform live – whether it's back home in Texas, across the US, headlining festivals in Japan, France, Brazil, Switzerland, the UK, or appearing on Nashville's famed Grand Ole Opry. Of his live show, Ducas says, "I like for the experience to be a non-stop musical journey, of both my own recordings and songwriting hits, both past and present. And I can't wait to add the songs from YELLOW ROSE MOTEL to my live show."
https://www.georgeducas.com/
Doors 8pm
Troy Stone 9-10pm
George 9:30-11pm