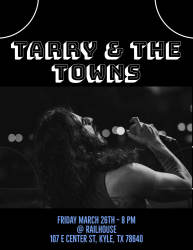 The Railhouse Bar presents...
Tarry and the Towns (Free Show)
Time: 8:00pm Day: Friday Doors: 4:00pm Ages: 21+ Ages

Tarry and the Towns is an up-and-coming band out of Austin, TX, whose humble beginnings can be traced back to the leisurely, quiet neighborhood of Tarrytown in "Old Austin" proper. Comprised of brothers Ian and Zachary Sloan on Vocals, Michal Witek on Lead Guitar, Kenny Albert on Bass, and Conner Cox on Drums, their unique and diverse sound is a far cry away from the "humble" origins implied by their tribute name.
Their self-titled album, released in 2019, encompasses a distinct combination of Blues, Indie, Rock, and R&B, which serves as a testament to the many influences that make up this eccentric quintet. The bands newest single "Battle Scars," released at the beginning of 2022, stands as an ode to the bands foundational rock influence and in addition, set the foundation for the creation of their first music video, in tandem with friends and colleagues, "The Austin Spotlight," which released to YouTube shortly thereafter.
Tarry and the Towns is currently back in the studio with the plan of releasing several more singles in 2022, with even grander aspirations to come in 2023.
It is their hope that the inclusion of new creative accompaniments and various new instruments, will create a fun and easy listening experience that everyone can enjoy!