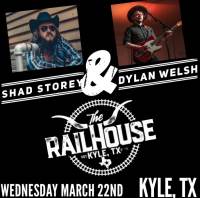 The Railhouse Bar presents...
Shad Storey (Free Show)
With Special Guest Dylan Welsh
Time: 8:00pm Day: Wednesday Doors: 4:00pm Ages: 21+ Ages
This Event Has Ended
Shad Storey is a singer songwriter originally from Mountain View, Arkansas; home of Grandpa Jones, Billy Don Burns, Jimmy Driftwood, and the Folk Music Capital of the World. Growing up, Shad was influenced by Country Music Legends such as Waylon Jennings, Willie Nelson, Merle Haggard, Keith Whitley, and George Jones. Shad began his career playing on the streets of downtown Nashville, quickly working his way up to playing world famous honky tonks all across the United States. Shad released an album "Patterns" with his brother Cason Storey as The Storey Boys in 2022, which was reviewed by the one and only Saving Country Music. His next project is currently in the works and is projected to be released in 2023. Shad has had amazing opportunities to work closely with several Country Music Legends over the years; including Billy Don Burns. He is honored to be on the next record Billy Don will release in 2023, with his brother, Cason, Cody Jinks, Whey Jennings, Shooter Jennings, Wes Shipp, and others. Shad Storey writes what he's lived and sings what he feels. He's unapologetically himself and don't give a damn if you love him or hate him for it. He currently resides in the great state of Texas traveling to honky tonks near you! Shad Storey, somewhere between a poetic genius and a drunken fool, a prophet, or blasphemer; you don't want to miss an opportunity to see this show.