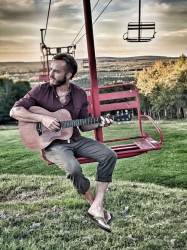 The Railhouse Bar presents...
Pete Henry (Free Matinee Show)
Time: 3:00pm Day: Saturday Doors: 11:00am Ages: All Ages with Parent or Guardian 21+

Peter Henry Fisk, b. 1985, is an American singer and instrumentalist. A performer since age 9, Pete has been recognized for his skills on guitar in several styles, including early music, folk, jazz, and blues. Since settling in as a singer, he has toured internationally - notable performances during the SXSW 2021 Festival in Austin, TX and opening act for Scott Stapp, the voice of Creed, in 2022 - with his one-man band arrangements of classics and original music.
"Pete has an extensive library of covers that he puts his own spin on and a range of original music.  
He is warm and engaging with the audience and I could listen to him all day"
— Dawn Inglis, music blogger
"I was inspired by his music. Every style of his music is stunning and so cool! I deeply appreciate this wonderful encounter of Pete's music! We were attracted by his warm personality too. He performed even three encores and he really cherished his audience and staff. He was really loved by all of us! Thank you for Love & Peace through Music!"
— Akiko Suzuki, musician and blogger
"... A one-man band, a skilled guitarist who plays a wide variety of genres. Henry infuses his love of jazz, folk and classic rock to make his original sound with the help of his harmonica. His acoustic-style covers bring new light to timeless songs while making his original songs stand out."
— Katherine Jordan, Charleston City Paper