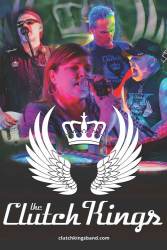 The Railhouse Bar presents...
Clutch Kings
Time: 8:00pm Day: Friday Doors: 4:00pm Ages: 21+ Ages

The Clutch Kings hail from Austin, TX and are everything the band's name suggests. They pack the big Texas rock sound into a mighty 2 guitars, bass and drums format. Upfront vocals, slippery blues rock guitar runs, chugging bass grooves, and thundering drums are the order of the day here.

The band was formed in 2011 when longtime friends Kory Brown (lead guitarist for the Bitter Angels) and Michael Tarsha (bass guitarist for AudioLight) were playing the same bill and noticed that the opening band had cancelled. Not wanting to let the audience or club owner down, Kory and Michael put together a quick 45 minute set within just a few days, called in a favor with one of their favorite drummers and named themselves The Clutch Kings. What started out as a challenge and one time gig to play some of their favorite cover tunes quickly turned into more than they expected when the club asked them back to headline more shows. More clubs caught the Clutch Kings vibe and gigs started to pile up.

The next major event in The Clutch Kings history occurred when legendary blues rock guitarist Keith "The Captain" Hiebner started sitting in at gigs and their local jam sessions.  The Captain provides the perfect balance for the band with his stinging Texas guitar leads and soulful blues riffs. Marc Nelipovich quickly took over the drum seat providing world class grooves, shuffles and background vocals.

With one amazing guitarist onboard the band sought out long time guitar guru Pete "The Stuntman" Skermetta in 2021 to handle the rest of the guitar duties. Another good friend, Kember Ottley soon moved into a full time role as well on vocals. She had been sitting in with the band at larger shows over the years but the stars finally aligned for her to join full time. Audiences are always blown away by her amazing vocals and the band often refers to her as their "Roberta Plant" of the group.

With a full line up, audiences began asking for more and more shows and the band quickly moved into writing and recording mode and what emerged were the first batch of Clutch Kings originals. Songs that allow them to explore their rock roots with titles like "Reminds Me of You", "Shackles and Bones", and "Taking Time."

The Clutch Kings continue on to this day juggling a healthy mix of gigs, studio work, benefit shows, tailgates and of course private parties. Look for their first EP "Up in Arms" scheduled for a 2022 release.