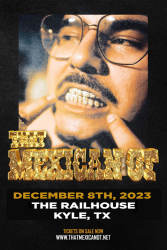 DIN Productions presents...
That Mexican OT
Time: 7:00pm Day: Friday Ages: 21+ (Under 21 allowed with parent or guardian) Price: $30-100

$30 ADV General Admission
$100 VIP Meet and Greet Add-On (Participant must purchase a GA ticket to attend the show - supplies are very limited).
** PLEASE NOTE THE FOLLOWING DETAILS **
- This event is standing GA only. Folding/lawn chairs and reserved tables will not be permitted or available.
- A clear bag policy will be in effect for the show - no other bags, backpacks, etc will be allowed. 
- Parking will be very limited and The Railhouse parking lot is for customers only. The parking lot across the street at the CVS (as well as their neighboring businesses) is off limits as well, and violators of either parking lot will be towed!  Taking a ride-share is highly encouraged, and the City of Kyle has a program set up with Uber for $3.14 rides. More information can be found HERE.
- No ins and outs!
- If a patron is under the age of 21, or does not have a current government-issued identification, they will be marked as a minor and will NOT be allowed to consume alcohol or be in possession of an alcoholic beverage.
- MUST have a valid I.D. to purchase alcoholic beverages.
- Prior to entering the venue, attendants will be searched (via metal detector and/or pat-downs) to ensure that no restricted items enter the building.  This is for the safety of all attendants and staff members.
- Weapons are NOT allowed.
- Drugs and/or drug paraphernalia are NOT allowed.
- Outside drinks are NOT allowed.
- Jewelry and/or clothing that could inflict harm are NOT allowed.
- Security and Management reserve the right to escort anyone out of the venue as they deem necessary.
- Patrons under the age of 21+ must be accompanied by an adult/guardian at all times.
- Consumption of alcohol in the parking lot is NOT allowed.
- Third party tickets do NOT guarantee admittance to the venue.  Be careful as to which website it is that you are purchasing your tickets from!